Step by step AccessDiver tutorial. this are only made for Athena and Energy. This tutorial is for complete beginners. I want to . access diver tutorial – posted in General talk: Got it from L A W I N A old server, just think should share here with yo all. Even though i didn't. Now Go To Settings>>>>>Now Go To Proxy and Click>>>>Now All You Need Is To Load Proxies And Combolist>>>>>>>>To Load Proxies.
| | |
| --- | --- |
| Author: | Kazizragore Nikotilar |
| Country: | South Sudan |
| Language: | English (Spanish) |
| Genre: | Personal Growth |
| Published (Last): | 4 August 2009 |
| Pages: | 15 |
| PDF File Size: | 5.65 Mb |
| ePub File Size: | 2.48 Mb |
| ISBN: | 753-1-60284-638-3 |
| Downloads: | 7677 |
| Price: | Free* [*Free Regsitration Required] |
| Uploader: | Akinotaur |
Now, we go to "Settings" and firstly make sure that the following boxes are checked; then, we go to "Search", we activate "Word size control" and we set Access Diver to ignore any user names or passwords that are less than 6 characters long.
Check if the url is correct. Double click it to install it. Just click on the check mark to remove the check mark. Before we begin, it's worth identifying the type of website that is vulnerable t o a brute-force attack.
Tutorial To Crack XXX Sites Using Access Diver ~ hackerunderground
Perhaps your proxies aren't working, perhaps the site has advanced protection, perhaps you've got the wrong URL for the member's area, but whatever it is, your attack isn't going to work.
The rest of this page i leave as is. Now click on the small " ProxyJudge " tab and check 4 and 5. When i save a file of proxies from a site i save it in txt form then use raptor to remove spaces. Then, go through your list and manually delete and proxy that has a question mark anywhere in the "Anonymous" column e. You can search the Internet for some but no wordlist will be as good as your own list based on your needs.
Now, once again select all the proxies. OK; we have our proxy and word lists loaded, our settings are correct, we've identified the target and analyzed it; now let's Access Dive The Attack; Press the "Standard" attack button next to the server bar.
You'll need to hide behind anonmous proxies. OK, it's time to set AccessDiver up.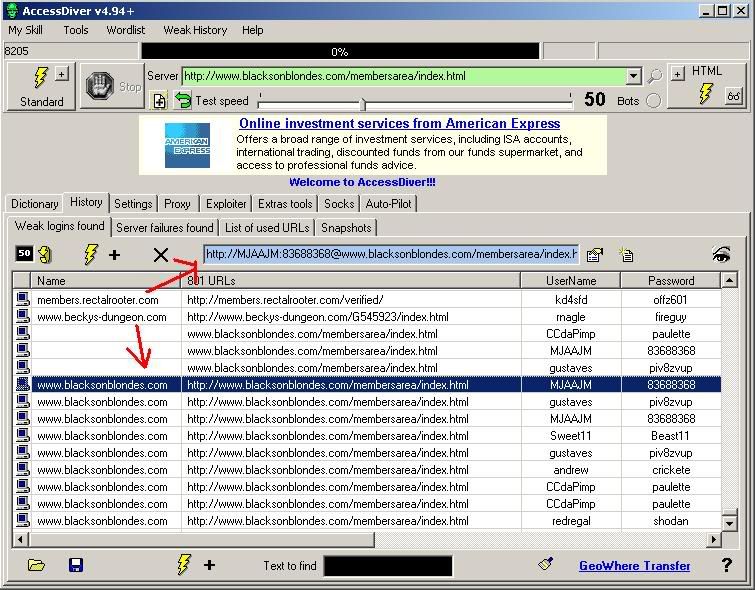 This tutorial is for complete beginners. AD will automaticly remove dupes. However, we will be using each proxy thousands of times.
You can use Google to search for some sites listing them. We now arrive at the Progression screen; you'll be seeing allot of this. Type url of your wanted-to-get-in site here remeber to type the url to the protected area:. I do this cause tutorlal wait 5 seconds can wait forever.
access diver tutorial
When done, click "Add in wordlist" right-click will add this leech on top of your current wordlist. Don't worry; the non-bundled release is clean. Sometimes a pj might only be down at this time and later it is back up.
Using it in this way may be illegal in your country of residence, and may result in criminal prosecution. After you're done with the first test, move on to the next one by clicking on the " Confidentiality Tester " button.
Once finished, arrange your list by clicking on the "Anonymous" tab. When it stops it will automatic remove dupes. Now you can test if they're working.
Step by step AccessDiver tutorial
If you get too many 's, you'll have to change your proxy list. Right-click over the list and from the menu choose "Remove duplicates".
Save your list, then select all your proxies, right click and select "Update my LIST with selected proxies". AD finds them working but they aren't. I want to describe how AD should be set up and how to use it.
The higher the number of bots, the faster the attack, but you don't want to overload the server or the attack is useless. Now i'll explain what to do with the proxy list, which you were supposed to get earlier. Unfortunatelly AD doesn't have the feature to leech from forums only usual sitesso you can use different programs to do that.
Access Diver should only ever be used for security tests on your own servers.
Now your list is loaded. Good way to start is to leech combos from XXX password sites or password forums. Have a nice time. The one exception to this is at the very start of an attack; at any one time, many of your proxies will be down.
Now, click on the 2nd tab " Search "check the " Use this feature during a search " option and use the following values: We accwssdiver need to filter out any non-anonymous proxies proxy servers that will spill your real IP to the target server Select the proxy judge tab. First up, this is pretty basic stuff; it's not "hacking", it's not advanced, and it won't work for anything like every website.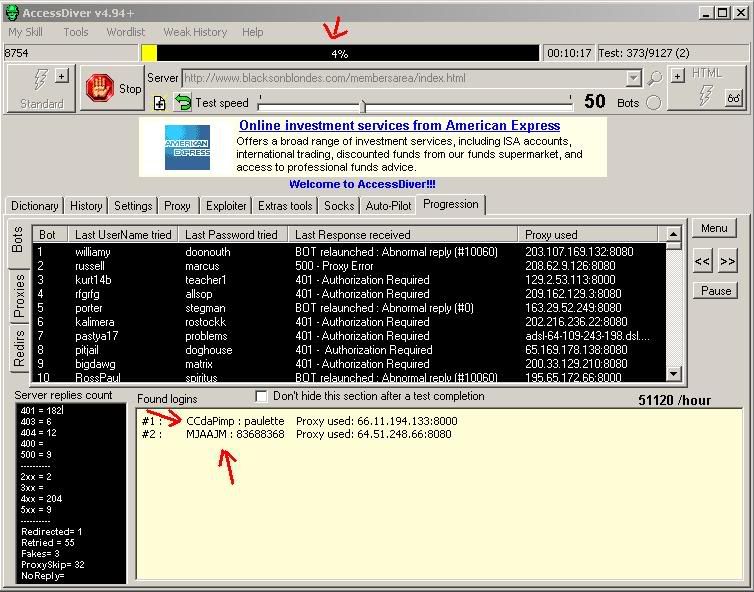 But, it is pretty good considering it's free and pretty easy to do. Right click and choose "remove duplicates". Once finished, right click and select "Sort list be speed", and then select two or three working, fast scripts to use.
Please log in to reply. Sign in anonymously Don't add me turorial the active users list.